Post by tj007s13 on Jun 17, 2008 2:12:52 GMT 1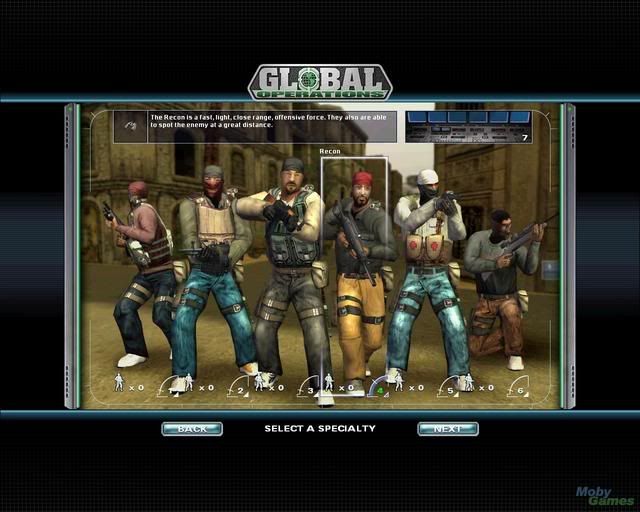 Global Operations is a stand alone, team-based, first-person shooter based on a significantly modified version of the LithTech 2.5 engine. The game features multiplayer action for up to 24 players, along with a single-player game with AI-controlled teammates and opponents.
Global Operations places the player among real-world special forces, peacekeepers, terrorists, rebel groups and guerilla forces. Levels have various objectives that are appropriate to the map location and each level has a pre-defined time limit. The missions are loosely based on real-life events that take place in various international locations such as Peru, Sri Lanka and the SkiiNaaz Tunnel. Each of the 28 elite fighting forces in the game are based on the actual combatants in the real-world location being portrayed.
**Notes**
Both Single and Multi Player Work On This.
Patch v3.51 is the latest version. It has be integrated automatically in this release. Its not an official patch, but one made by the game's community since, company no longer supports it.
A working keygen has been included. The installer will place it on your desktop.
**Installation**
1. Unpack the archives using Winrar
2. Run the Installer Exe
3. Use keygen placed on your desktop to generate a valid key after the game has been installed. Key must be generated before online/multi-player will work.
4. Run Game
**Warning**
Since this is an older game, it can have problems with faster computers where it causes the game to warp.
You can do 1 of 2 thing to fix this problem.
- Open any web browser up to a page containing flash (www.adobe.com for example)
- Run
www.thelostparadise.com/files/antiwarp.zip
This tool in the background while you play.
For Maps, Tools, and other files for this game...
Visit
www.thelostparadise.com/content/downloads.html
rapidshare.com/files/122745458/Global.Ops.The.Revival.v3.51.part5.rar.html
rapidshare.com/files/122745454/Global.Ops.The.Revival.v3.51.part4.rar.html
rapidshare.com/files/122741813/Global.Ops.The.Revival.v3.51.part3.rar.html
rapidshare.com/files/122741812/Global.Ops.The.Revival.v3.51.part2.rar.html
rapidshare.com/files/122748559/Global.Ops.The.Revival.v3.51.part1.rar.html
www.mediafire.com/?vcmmrhkdzim
www.mediafire.com/?ohjbksiw0gx
www.mediafire.com/?ydjkxmwvnmm
www.mediafire.com/?bm1xngyyvow
www.mediafire.com/?vkigndn9pnh